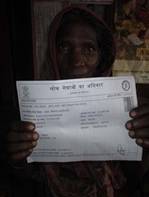 Empowering the underprivileged is one of the main priorities of Soochna Seva. The Soochna Seva team visits various villages every month so that they can reach the most marginalised communities and informs the people through digital tools. The main focus is to make the villagers aware about the schemes and policies that government has initiated to eradicate poverty and provide livelihood to the helpless.
The team visited Bahuarva village to help people fill the form for 'Pradhan Mantri Jan Dhan Yojna' and while interacting with the locals they met Suggi Devi. She is a 60-yr-old woman and also a widow. In 2014 her husband died due to drowning and since then she has been working as daily wage labourer. She has two daughters who are married and settled in nearby villages. Her son stays with her and works in a brick kiln. They earn a meager and depend heavily on whatever they earn per day.
Suggi Devi has been trying to apply for 'Vidhwa Pension Scheme' since many months but all her efforts went futile. Since, she is uneducated and do not know about the procedure of filling the forms, the officials at Block Development Office(BDO) kept on rejecting her application for minute errors. This turned out to be a painful experience for her and her son as they used to leave the house at 7:00 am, travel a distance of 25 kilometers, and return at 5:00 pm with no success.
When Soochna Seva team heard their pitiful story, they assured Suggi Devi to provide their best assistance they could. The team examined the documents that was available with her and found out that her name in the voter card is not correct. This error could have been spotted by the officials at BDO office but they did not clarify it. Soochna Seva team went to the Senior Development Office (SDO) and applied the change the name in the voter card. Fortunately, the processing did not take a long time and it paved way for Suggi Devi to apply for 'Vidhwa Pension Scheme'.
The team's efforts did not go in vain as the application is accepted and Suggi Devi will be receiving her pension from October 31, 2015. She thanked the team and blessed the Soochna Sevaks for their wonderful hard work.